Title: Entre los muertos / Among the Dead
Location: Mission Cultural Center for Latino Arts
Tickets: Click here
Description: dir. Jorge Dalton, 2004, Cuba / El Salvador, 60 min.
Start Time: 20:30
Date: 2008-11-20
End Time: 21:30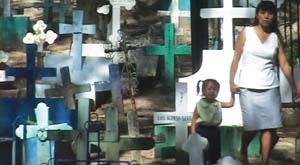 Though San Salvador is a locus of violence—suffering from constant earthquakes, devastating street crime and the ripple effects of decades-long war—filmmaker Jorge Dalton explores the ways in which its citizens cope. This excellent documentary is both enlightening and macabre, eerily funny and gut-wrenchingly sad. Its main theme is Death—but how we deal with death is a matter of perspective. There are communities living in cemeteries where the tombstones act as playgrounds; 'funerary brokers' who scout dead bodies for a commission; families who choose to bury their kin in their back yard; emotional Mara Salvadotrucha funerals and festive celebrations of Day of the Dead. With creative camerawork and photography, Dalton presents a panorama that examines the economy of death, the value of life and how San Salvadoreans, precisely because of their historical roots to violence, walk a fine line between normalizing and desensitizing death.
 
San Salvador es un centro de violencia—sufriendo de constantes temblors, devastadora delincuencia y los efectos de decadas de guerra. Jorge Dalton explora como sus ciudadanos lidian con esta dificil realidad. Este originalisimo documental es a la vez macabro y divertido y simultaneamente alegra y entristece. Su tema es "la muerte", pero como cada quien la enfrenta es cuestion de perspectiva. Hay comunidades que viven en cementerios donde las lapidas actuan como patios de recreo, " negociantes funerarios" que buscan cadaveres por comision; familias que eligen enterrar a sus familiares en los patios de sus casas; dramaticos funerales  de la Mara Salvatrucha y alegres celebraciones del Dia de los Muertos. Con una direccion y fotografia muy creativas, Dalton presenta un panorama que examina la economia de la muerte, el valor de la vida y como los sansalvadorenos, precisamente por sus lazos historicos con la violencia, titubean entre una vision normalizada pero insensible de la muerte.