Title: Utopia 79
Location: La Pena Cultural Center
Description: dir. Joan Lopez Lloret, 2007, Nicaragua / Spain, 97 min.
Start Time: 18:00
Date: 2008-11-21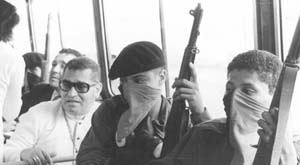 For much of the generation of Nicaraguans from the 1960s and '70s, the Sandinista Revolution of 1979 brought the last hopes of changing the world. Utopia 79 follows the personal stories of several individuals who, disappointed by the Spanish democratic transition after Francisco Franco's death, traveled to Nicaragua to search for their own "utopia" and become part of the movement. Their stories recall the collective enthusiasm of the early years of the revolution, the bloodshed of the US-supported Contra groups throughout the 1980s, and the electoral defeat in 1990. Barcelona-born director Joan Lopez Lloret's second documentary begins by examining this trans-Atlantic connection between two generations born into dictatorships and brought together in their fight for freedom, and ends 25 years later looking at the impact of a fleeting glimpse of utopia on future generations in Nicaragua.
 
Para muchos nicaraguenses de la generacion de los 60 y 70 la Revolucion Sandinista de 1979 ofrecio las ultima esperanza para poder cambiar el mundo. Utopia 79 sigue las historias personales de varios individuos quien, desilusionados por la transicion de Espana a la democracia despues de la muerte de Franco, viajaron a Nicaragua para alcanzar la "utopia" y ser parte del movimiento. Sus historias recuerdan el entusiasmo colectivo de los primeros anos de la revolucion, el bano de sangre de los grupos "Contras" financiados por EE.UU. durante los 80 y la derrota electoral en 1990. Joan Lopez Lloret nacido en Barcelona, nos ofrece su segundo documental que comienza con una examinacion de esta conexion transatlantica entre dos generaciones nacidas bajo dictadores que unifican su lucha por la libertad y terminan 25 anos despues observando el impacto que esta utopia tiene para las generaciones futuras.