Title: Uprooted
Location: M.A.C.L.A. Castellano Playhouse (MACLA)
Description: dir. Juan Mejia, 2007, Colombia / USA, 43 min.
Start Time: 18:00
Date: 2008-11-12
End Time: 20:00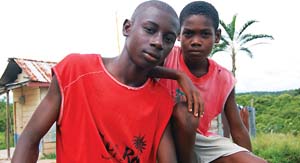 The film explores the plight of the more than 1 million Afro-Colombians violently displaced since 1990 in Colombia. At the center of Uprooted is Noris, a mother and community leader forced to relocate in 1996 by the conflict between the armed factions of Colombia's ongoing civil war. After her oldest son's military career resulted in harassment, intimidation, and eventual death threats, Noris gathered her children and fled. She now lives in the refugee shelter of Villa Espana on the outskirts of Quibdo, a growing city in the Pacific Coast. Her son dreams of leaving the refugee shelter for a soccer academy in the capital city of Bogota, and Noris will do all she can to make his dream a reality. Through her day-to-day plight, we delve into the tragedy of uprooting and discover the power of resilience. Beautifully told, Uprooted is a bittersweet story of loss, love, family, and dreams.
La pelicula explora la dificil situacion de mas de un millon de afro-colombianos que fueron violentamente desplazados desde 1990 en Colombia. El foco del film es Noris, una madre y lider comunitaria desplazada en 1996 a raiz del conflicto entre los grupos armadas de la incesante guerra civil. Depues de que la carrera militar de su hijo mayor resulto en intimidaciones, y luego amenazas de muerte, Noris reunio a sus hijos y se huyo. Ella vive actualmente en un refugio en Villa Espana en las afueras de Quibdo, una ciudad en desarrollo en la costa del Pacifico. Su hijo suena con salir del refugio y poder entrar a una academia de futbol en Bogota. Noris hara todo lo posible para hacer este sueno realidad. A traves de su diario esfuerzo, profundizamos en la tragedia del desarraigo y descubrimos el poder de la tenacidad. Bellamente contada, Desterrados es una historia agridulce acerca de la perdida, la familia, el amor y los suenos.