Title: Que viva la lucha!
Location: Canada College
Description: dir. Gustavo Vazquez, 2007, USA, 54 min.
Start Time: 11:00
Date: 2008-11-11
End Time: 11:54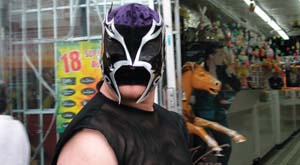 A peek inside Tijuana's historic Lucha Libre arena reveals how the universal themes of good versus evil—the underdog beating the bully, the noble hero outwitting the corrupt nemesis—all play out daily to generations of fans in this popular sport. Wrestlers fabricate unique characters for lucha-lovers to either embrace or insult, including everything from corrupt politicians and cops to crime-fighting heroes to mythological figures and villains. Local filmmaker Gustavo Vazquez combines footage of heart-stopping acrobatics and high impact collisions with touching personal interviews with the wrestlers, their families, and the fans. This documentary is a celebration of a Mexican Wrestling legacy and prospering future spearheaded by young luchadores like Extreme Tiger, whose goal was to expose Japan to Mexican Wrestling. The film, with a soundtrack by Carne Cruda, highlights the skills, personalities, and aspirations of these celebrities, including Pancho Cachondo, Diamantina, and Angel Negro, Jr. 
 
Una mirada al historico ruedo de Lucha Libre en Tijuana que revela como el tema universal del bien contra el mal, el desvalido contra el maton, el noble heroe burlando al corrupto, se despliega a diario a generaciones de admiradores en este popular deporte. Los luchadores fabrican una personalidad original para su publico ya sea para ser aceptados  o insultados, incluyendo a politicos corruptos y policias, heroes, figuras mitologicas y villanos. Gustavo Vasquez, cineasta local, combina material de archivo de asombrosas figuras acrobaticas y encontronazos de alto impacto con emotivas entrevistas personales con los luchadores, sus familias y sus admiradores. Este documental es una celebracion de la herencia de la lucha en Mexico y de su floreciente futuro liderado por jovenes como Extreme Tiger. El film, con banda sonora de Carne Cruda, muestra las habilidades, personalidades y aspiraciones de estas celebridades, incluyendo Pancho Cachondo, Diamantina y Angel Negro, Jr.