Title: Double Feature Matinee: Bracero Stories & Uprooted
Location: Brava Theater for Women in the Arts
Tickets: Click here
Description: dir. Patrick Mullins, 2008, USA, 55 min.
Start Time: 12:00
Date: 2008-11-09
End Time: 13:45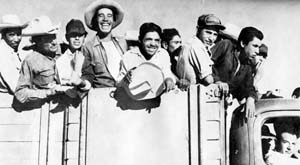 Bracero Stories
dir. Patrick Mullins, 2008, USA, 55 min.
Using excellent archival material and fascinating personal interviews, Bracero Stories traces the journey of five men who participated in the controversial U.S.- Mexican government Bracero Program between 1942 and 1964. Regarded by some as a modern day slave trade, the program granted temporary work contracts to millions of Mexican laborers. By detailing the struggles encountered by the men who participated in the program as well as revealing the pride that former "braceros" feel regarding their important contribution to U.S. society, the film is a history of a very complicated and politically charged program. Along with key interviews of former workers, the film also includes the voices of the land owners and chronicles their opinions and experiences while assessing the program's effectiveness, its fairness and its relevance to today's contemporary concerns about illegal immigration and the possible implementation of a new guest worker program.
Sirviendose de excelente material de archivos y fascinantes entrevistas personales, Bracero Stories investiga el viaje de cinco hombres que participaron en el controversial Programa de Braceros entre el gobierno de EEUU y Mexico en el periodo de 1942 a 1964. Considerado por algunos como un comercio moderno de esclavitud, el programa les otorgo contratos de trabajo temporal a millones de obreros mexicanos. El film es la historia de un programa complejo y politicamente cargado que detalla las luchas de quienes participaron en el tanto como revela el orgullo que los antiguos braceros sienten por su importante contribucion a la sociedad estadounidense. Ademas de importantes entrevistas con obreros, el film incluye las voces de los terratenientes y narra sus opiniones y experiencias mientras que valora la eficacia del progama, su justicia, su actual relevancia y la posible implementacion de un nuevo programa de obreros invitados.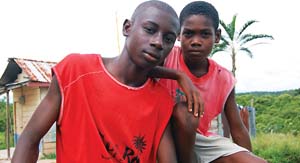 Uprooted
dir. Juan Mejia, 2007, Colombia / USA, 43 min.
The film explores the plight of the more than 1 million Afro-Colombians violently displaced since 1990 in Colombia. At the center of Uprooted is Noris, a mother and community leader forced to relocate in 1996 by the conflict between the armed factions of Colombia's ongoing civil war. After her oldest son's military career resulted in harassment, intimidation, and eventual death threats, Noris gathered her children and fled. She now lives in the refugee shelter of Villa Espana on the outskirts of Quibdo, a growing city in the Pacific Coast. Her son dreams of leaving the refugee shelter for a soccer academy in the capital city of Bogota, and Noris will do all she can to make his dream a reality. Through her day-to-day plight, we delve into the tragedy of uprooting and discover the power of resilience. Beautifully told, Uprooted is a bittersweet story of loss, love, family, and dreams.
La pelicula explora la dificil situacion de mas de un millon de afro-colombianos que fueron violentamente desplazados desde 1990 en Colombia. El foco del film es Noris, una madre y lider comunitaria desplazada en 1996 a raiz del conflicto entre los grupos armadas de la incesante guerra civil. Depues de que la carrera militar de su hijo mayor resulto en intimidaciones, y luego amenazas de muerte, Noris reunio a sus hijos y se huyo. Ella vive actualmente en un refugio en Villa Espana en las afueras de Quibdo, una ciudad en desarrollo en la costa del Pacifico. Su hijo suena con salir del refugio y poder entrar a una academia de futbol en Bogota. Noris hara todo lo posible para hacer este sueno realidad. A traves de su diario esfuerzo, profundizamos en la tragedia del desarraigo y descubrimos el poder de la tenacidad. Bellamente contada, Desterrados es una historia agridulce acerca de la perdida, la familia, el amor y los suenos.