Title: Against the Grain: An Artist\'s Survival Guide to Peru
Location: MACLA Castellano Playhouse
Description: dir. Ann Kaneko, 2008, Peru / USA, 65 min.
Start Time: 18:30
Date: 2008-11-14
End Time: 20:30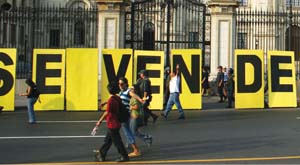 Is freedom of expression a right or a privilege? Against the Grain traces a period of tumultuous politics in Peru by weaving together the story of four captivating artists who struggle to survive as critics of their society. Claudio Jimenez Quispe chronicles the violence he encountered before fleeing his home in Ayacucho, creating retablos, traditional wooden display boxes. Alfredo Marquez, who was active in the 1980s underground punk scene, produces bold, political images despite four years of unjust imprisonment. Japanese-Peruvian Eduardo Tokeshi reaffirms his identity through a series of Peruvian flags. Natalia Iguiniz provokes the socially conservative middle class with controversial images that challenge gender and class. Through their stories and works we see a deeply affected country where art is used as a cultural expression, a political movement, a way to reconcile identity and a stimulus for change. 
 
 Es la libertad de expresion, un derecho o un privilegio? Esta pelicula rastrea un tumultuoso periodo politico en Peru tejiendo una cautivante historia alrededor de cuatro artistas que sufren como criticos de su sociedad. Claudio Jimenez Quispe relata la violencia con la que se enfrento antes de escapar de su casa en Ayacucho. Alfredo Marquez, quien estuvo activamente involucrado en la escena punk de los 80, produce valientes imagenes politicas a pesar de cuatro anos de injusto encarcelamiento. Tokeshi, peruano-japones, reafirma su identidad a traves de una serie de banderas peruanas. Natalia Iguiniz provoca a la clase media conservadora con imagenes controversiales que desafian genero y clase social. A traves de  sus historias y obras vemos un pais profundamente conflictuado donde el arte es usado como una expresion cultural, un movimiento politico, una forma de reconciliacion con la identidad y un estimulo para el cambio.