Title: Saneamento Basico, o Filme / Basic Sanitation: The Movie
Location: M.A.C.L.A. Castellano Playhouse (MACLA)
Tickets: Click here
Description: dir. Jorge Furtado, 2007, Brazil, 112 min.
Start Time: 20:15
Date: 2008-11-12
End Time: 22:00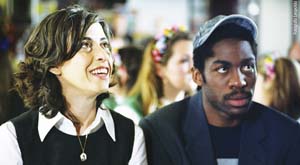 A rural community of Italian descendants in the Brazilian state of Rio Grande do Sul convenes to discuss a sewage problem that is plaguing their village. Asserting their right to basic sanitation, husband and wife dynamic duo Marina and Joaquim protest the issue at their local prefect. They discover that the government will not fund a septic tank, but has budgeted $10,000 Reales to support the arts in small towns by financing a short film. What begins as a short science fiction film becomes a hilarious cult monster flick that gets the whole town involved. The crew learns what it takes to put together a script, solicit corporate sponsorship, find an editor and put together monstrous special effects. This riotously funny film from writer/director Jorge Furtado (director of O Homen Que Copiava) was a smash hit in Brazil. Stars Fernanda Torres, Wagner Moura and Lazaro Ramos are funny and endearing.
 
Una comunidad rural de descendientes de italianos en el estado de Rio Grande do Sul se dispone a discutir un problema de aguas residuales que esta contaminando el pueblo. Afirmando su derecho a servicios sanitarios basicos, Marina y su exhuberante esposo Joaquim protestan esta situacion en el consejo del pueblo. Descubren que el gobierno no va a pagar por un tanque septico por falta de dinero, pero tiene un presupuesto de $10,000 reales para apoyar las artes en donde quieran hacer un cortometraje. Lo que comienza como un corto de ciencia ficcion se transforma en una divertidisima pelicula de monstruos en la que todo el pueblo participa. El grupo de filmacion aprende lo que toma hacer una pelicula. Este divertidisimo film de Jorge Furtado, ( El hombre que copiaba)Â  fue un gran exito en Brazil. Las actuaciones de la galardonada Fernanda Torres, la hermosisima Camila Pitanga y el carismatico Paulo Jose son entranables y llenas de humor.