Title: Rancho Aparte
Location: Camera 12 Downtown (CAM)
Tickets: Click here
Description: dir. Edi Flehner, 2007, Argentina, 90 min.
Start Time: 17:30
Date: 2008-11-22
End Time: 19:00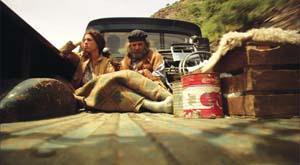 Superb acting by the two leading ladies command this witty comedy based on an Argentine play. When two county bumpkins are displaced from their home they end up at the doorstep of an estranged family member in modern Buenos Aires. Clara, caught by surprise at the unexpected guests nevertheless greets them in face mask and silk pajamas with open arms. She overflows with ebullient hospitality offering gourmet food, a shower and designer beds. Tulio and Susana, accustomed to a more primitive life in their mud shack prefer candles to electricity, chairs to beds and only push the food around on their plate while contemplating the use of a fork. Taking place in less than 24 hours and through the use of flashbacks and unique narrative style we learn about the ghosts of these characters pasts- literally and figuratively. Misunderstandings and laughs ensue in this beautifully crafted film about the clashing of worlds.
The film won the Jury Award at the Festival de Malaga, Spain.
Soberbia actuacion de las dos actrices principales en esta chispeante comedia basada en una obra de teatro argentina. Cuando dos provincianos son desplazados de su hogar, terminan en la casa de un familiar en Buenos Aires. Clara, desprevenida ante la llegada de los inesperados parientes, los recibe con los brazos abiertos en su pijama de seda, con su cara encremada y ebulliciente de  hospitalidad les ofrece exquisitos manjares y camas confortables. Tulio y Susana, acostumbrados a una vida primitiva en su pobre rancho prefieren velas a la electricidad, sillas a las camas y no entienden la comida "gourmet". En 24 horas el film va y viene en el pasado con una narrativa original que nos acerca inteligentemente a los fantasmas figurativos y literales de estos personajes. Se crean graciosos malentendidos y estallan risas por el jocoso choque de dos mundos en esta innovativa y simpatica comedia. El film recibio el "Premio del Jurado" en el Festival de Malaga 2008.