Title: La vida me mata / Life Kills Me
Location: Dominican Univesity of California
Tickets: Click here
Description: dir. Sebastin Silva, 2007, Chile, 81 min.
Start Time: 18:00
Date: 2008-11-20
End Time: 19:30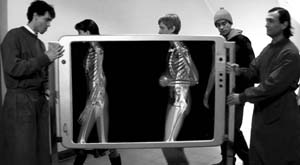 Acclaimed visual artist Sebastian Silva brings us his first work, a smart, funny, and profound contemplation of life and death. Gaspar is a lonely young cinematographer who is still affected by the sudden death of his old brother. Overwhelmed by his over-protective sister and his sick grandfather, Gaspar passes time shooting a short film with Susana, an eccentric actress who thinks she is creating her masterpiece. His life changes when he meets Alvaro, an idealistic traveler whom Susana picks up on their way to a funeral. These characters start a series of adventures that help them discover the fragility and value of human existence. La vida me mata is a film full of enigmatic visuals that shows us in a fun and fresh way the complexity of family relationships, friends, and life itself. Silva proves himself here to be a remarkable young talent with a strong voice and a clear vision. 
 
El aclamado artista visual, Sebastian Silva, nos trae su opera prima, una inteligente, divertida y profunda reflexion acerca de la vida y la muerte. Gaspar es un joven cinematografo solitario que continua afectado por la repentina muerte de su hermano mayor. Agobiado por su sobreprotectora hermana y su abuelo enfermo, pasa el tiempo trabajando en un cortometraje con Susana, una excentrica actriz que cree estar haciendo su obra maestra. Su vida cambia cuando conoce a alvaro, un trotamundos idealista que Susana recoge camino a un funeral. Estos dos personajes se embarcan en una aventura que les ayudara a descubrir la fragilidad y el valor de la existencia humana. La vida me mata esta llena de imagenes enigmaticas que muestra de una manera fresca y humoristica la complejidad de las relaciones familiares, la amistad y la vida misma. Silva ha probado ser un joven talento con una fuerte voz y un vision clara.