Title: La Antena / The Aerial
Location: Brava Theater for Women in the Arts
Tickets: Click here
Description: dir. Esteban Sapir, 2007, Argentina, 90 min.
Start Time: 20:30
Date: 2008-11-09
End Time: 22:00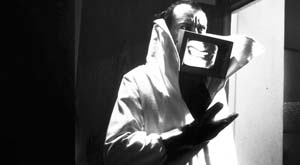 In year X in the City Without a Voice, Mr. TV, the owner of the city's only television channel, is carrying out a sinister plan to subject the city's inhabitants to his will forever more. Only a fractured family and a stunning jazz singer, known only as "The Voice", can stop this nefarious media mogul from his plans to steal the town's voice. Shot in black and white with minimal spoken dialogue, Sapir creates a surreal comic book world where striking images reign. Words dance creatively on the screen and throughout magnificent sets. La Antena is at once a magical fairy tale and a powerful allegory, commenting on the power of the media to sedate the masses. Though cleverly reminiscent of the silent cinema of Murnau and Lang to name a few, this unique vision is an extremely modern and playful take on '20s-era science fiction.
 
En el ano X en la Ciudad sin Voz, el senor TV, dueno del unico canal de television en la ciudad, pone en practica un siniestro plan para someter a su voluntad a los residentes de la metropoli. Solo una familia muy particular y "La Voz", una despampanante cantante de jazz, pueden detener a este villano, magnate mediatico, de su intencion de privar de su voz al pueblo. En blanco y negro y casi silente, Sapir crea un mundo de tiras comicas surrealistas donde reinan sorprendentes imagenes. Las palabras bailan creativamente en la pantalla y en magnificos decorados.  "La antena" es a la vez un magico cuento de hadas y una poderosa alegoria que comenta sobre el poder de los medios de comunicacion de sedar a las masas.  Aunque recuerda astutamente al cine mudo de Murnau y Lang,  esta es una vision original, modernista y juguetona de la ciencia-ficcion de los anos veinte.