Title: Alondra Smiles
Location: Camera 12 Downtown (CAM)
Link out: Click here
Description: dir. Conchita Nora Villa, 2007, USA, 118 min.
Start Time: 13:00
Date: 2008-11-22
End Time: 15:00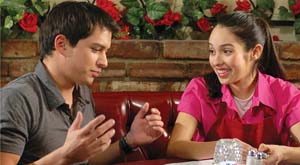 The high-spirited Alondra has had a rough start in life, but now she is excited to be approaching her 15th birthday, a special year for Mexican-American teenagers. Despite her family's economic difficulties, with the love and support of her grandparents and friends she is planning to have a very special quinceanera party. Her plans seem to be coming along better than she expected… that is, until her spoiled cousin Tatiana, who has her own aspirations, comes into the picture. Though Tatiana is willing to ruin anyone's life to get her way, Alondra must do what she can to save her birthday plans.
A film that the entire family is going to enjoy!
2008 Imagen Awards Best Picture 
International Family Film Festival Winner Directors Gold Award 
Heart of England Winner Best International Film 
Reel Rasquache Film Festival Winner 
 
La fogoza Alondra, ha tenido un duro comenzar en su vida. Pero ahora esta feliz ya que esta por cumplir 15 anos, una ocasion muy especial para las adolescentes mexico-americanas. A pesar de las dificultades economicas de su familia, con el apoyo de sus abuelos y sus amigos ella espera tener una fiesta de quinceanera muy especial. Sus planes parecen cumplirse mejor de lo que lo esperaba… esto hasta que su consentida prima, Tatiana, quien tiene sus propias aspiraciones, aparece en la escena. Tatiana esta dispuesta a arruinar la vida de quien sea con tal de salirse con la suya. Alondra tendra que hacer todo lo que pueda para conquistar su objetivo.  Una pelicula que toda la familia va a disfrutar!
Mejor Pelicula en el 2008 Imagen Awards
Premio de Oro Mejor Director International Family Film Festival 
Mejor Film Internacional- Heart of England 
Mejor Film -Reel Rasquache Film Festival