Title: Sleep Dealer
Location: Century 20 Downtown (RDWD)
Tickets: Click here
Description: dir. Alex Rivera, 2008, USA, 90 min.
Start Time: 18:30
Date: 2008-11-14
End Time: 20:00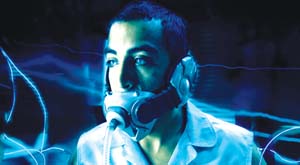 This Sundance and Berlin award-winner paints a visually captivating but critical vision of what the future of globalization could look like in the not-so-distant future. Airtight borders, militarized corporate control on natural resources, and an underground class of Mexicans who flock to dangerous "cybracero" factories on the Mexican/USA border for work are just part of this dystopian vision. Fleeing a fatal intervention with the government, Memo Cruz leaves his tiny hometown and heads north to the border in search of a better future. He implants black-market nodes into his body in order to gain employment in a factory that performs virtual labor for the USA. Alex Rivera's imaginative and thought-provoking debut is a truly original story, with romance and betrayal, equally influenced by science fiction and current political debates on immigration and globalization.
 
Esta ganadora de premios en los Festivales de Sundance y Berliin presenta una vision visualmente cautivante pero critica de lo que el futuro de la globalizacion puede ser en un porvenir no tan lejano. Las fronteras hermeticas, el control de los recursos naturales por corporaciones militarizadas y una clase clandestina de mexicanos quienes en tropel van a trabajar a fabricas de "cybraceros" en la frontera, son solo una parte de esta vision distopiana. Huyendo de un conflicto con el gobierno, Memo sale de su pueblito y se va al Norte, a la frontera en busca de un futuro mejor. Se implanta "nodos" en el cuerpo para conseguir empleo en una fabrica como obrero virtual para EEUU. El imaginativo y provocador estreno de Alex Rivera es una historia originalisima, con romance y traicion, influida igualmente por la ciencia ficcion y los actuales debates politicos sobre la inmigracion y la globalizacion.