Title: Cochochi
Location: Dominican Univesity of California
Tickets: Click here
Description: dirs. Israel Cardenas, Laura Amelia Guzman, 2007, Canada / Mexico / UK, 87 min.
Start Time: 19:45
Date: 2008-11-19
End Time: 21:15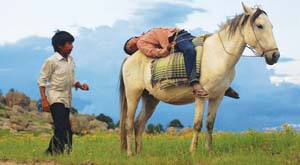 Set in Chihuaha in the lush Sierra Tarahumara of northwest Mexico, this beautifully photographed fable recounts the story of two indigenous Raramuri brothers who, when sent on an errand, lose their way home as well as their grandfather's horse. The brothers' adventures illuminate the traditional Raramuri way of life while spinning a universal coming-of-age tale. The film, spoken in Raramuri, traces the boys' struggle to straddle two cultures while holding on to their own identity. Directors Laura Guzman and Israel Cardenas tell a nostalgic story of purity and naivete, creating both an artful portrait and a respectful commentary of Raramuri people and their way of life. 
Winner of the Discovery Award at the 2007 Toronto International Film Festival, the Grand Jury Prize at the 2008 Miami International Film Festival, and featured in Ambulante 2008, a traveling festival founded by Gael Garcia Bernal, Diego Luna and Pablo Cruz, who also produced this gem.
Ubicado en Chihuaha, en la exuberante Sierra Tarahumara del Noroeste mexicano, esta fabula de hermosa fotografia cuenta la historia de dos hermanos indigenas Raramuri, quienes enviados a hacer mandados se pierden y pierden el caballo de su abuelo. Las aventuras de los hermanos iluminan el estilo de vida de los Raramuri mientras tejen una historia universal de jovenes en proceso de maduracion. El film, hablado en lengua Raramuri, descubre el conflicto de vivir entre dos culturas mientras los hermanos tratan de mantener su identidad. Los directores Laura Guzman e Israel Cardenas cuentan una nostalgica historia de pureza e inocencia, creando un retrato inteligente y respetuoso del pueblo Raramuri y su idiosincrasia. 
Ganador del Premio Descubrimiento en 2007 Festival de Cine de Toronto, Gran Premio del Jurado 2008 Festival de Cine de Miami, y Ambulante 2008, el festival ambulante de Gael Garcia Bernal, Diego Luna y Pablo Cruz quienes tambien produjeron esta joya cinematografica.