Title: El Norte / The North
Location: Azucar latin Bistro and Mojito Bar
Tickets: Click here
Description: dir. Gregory Nava, 1983, UK / USA, 139 min.
Start Time: 12:00
Date: 2008-11-21
End Time: 14:00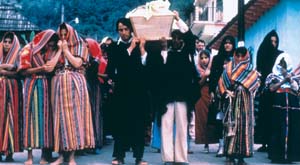 El Norte, ILFF 2008 tributee director Gregory Nava's acclaimed debut about the harrowing journey of two Guatemalan immigrants, celebrates its 25th Anniversary and its enduring importance at a time when immigration remains one of the most difficult political issues facing our nation. Known as Nava's masterpiece, El Norte was one of the first films to put a human face on the issue of immigration. It is the story of siblings Enrique and Rosa Xuncax, who choose to flee their mountain village in Guatemala rather than face military persecution. They embark upon a heartbreaking journey to a fabled land of plush houses, electric lights, and flush toilets. The land is America: The North. Together, Enrique and Rosa acquire a small piece of the American dream, though their native Mayan identities are slowly stripped away. When temptation threatens to destroy their bond, it is their spirits that prove indelible.
 
El Norte, el elogiado debut del consagrado realizador Gregory Nava que cuenta el desgarrador viaje de dos inmigrantes guatemaltecos, celebra su veinticinco aniversario y su importancia sigue aun vigente en una epoca donde la inmigracion continua siendo uno de los temas politicos mas controversiales. Reconocida como la obra maestra de Nava, El Norte fue una de las primeras peliculas en ponerle un rostro humano al tema de la inmigracion. Es la historia de dos hermanos Enrique y Rosa Xuncax, que eligen huir de su pueblo en las montanas de Guatemala para escapar de la persecucion military de los 80. Se embarcan en un doloroso viaje hacia una tierra mitologica con casas enormes, luces electricas e inodoros con cloacas. Esta tierra es Estados Unidos: El Norte. Juntos, Enrique y Rosa consiguen vislumbrar el sueno americano, aunque en el camino van perdiendo gradualmente su identidad maya. Cuando la tentacion amenaza con destruir el vinculo entre ellos, es su espiritu el que se muestra indeleble.