Title: Children In No-Man's Land
Location: Brava Theater Center
Description: dir. Anayansi Prado, 2008, USA, 42 min.
Start Time: 17:30
Date: 2008-11-08
End Time: 19:30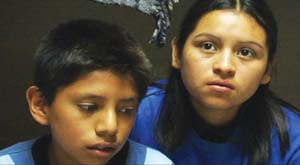 Children In No-Man's Land uncovers the plight of some 100,000 unaccompanied minors entering the United States every year. As the children are caught by immigration authorities, they are held indefinitely in shelters, waiting for an adult relative to arrive with documentation to vouch for their identity. The film gives the timely political debate about the US–Mexico border a human face by exploring the stories of Maria de Jesus, 13 years old, and her cousin Rene, 12 years old, as they attempt to enter the United States alone to reunite with their mothers in the Midwest. Focusing on the Sonora Desert area in Nogales, Arizona, this film explores these children's journey, as we discover in an intimate way where they are coming from, what they have gone through to join their families, and how they adjust to a new life in a foreign country.
 
Ninos en tierra de nadie revela los grandes problemas de unos 100.000 ninos menores de edad quienes entran solos en los Estados Unidos cada ano. Cuando las autoridades de inmigracion los captura, son detenidos indefinidamente en asilos, esperando que venga un pariente adulto con documentacion para confirmar su identidad. El film le da una cara humana al debate politico actual sobre la frontera EEUU-Mexico al explorar las historias de Maria de Jesus, de 13 anos, y su primo Rene, de 12 anos quienes trataron de entrar a Estados Unidos solos para reunirse con sus madres en el medio Oeste.  Con un enfoque en el Desierto de Sonora cerca de Nogales, Arizona, esta pelicula explora el viaje de estos ninos, mientras descubrimos de una manera intima de donde vienen, lo que han experimentado para reunirse con sus familias y como se ajustan a su nueva vida en un pais desconocido.