Title: Maldeamores / Lovesickness
Location: Pickleweed Community Center
Description: dirs. Carlitos Ruz Ruz, Mariem Prez, 2007, Puerto Rico, 90 min.
Start Time: 16:15
Date: 2008-11-16
End Time: 16:45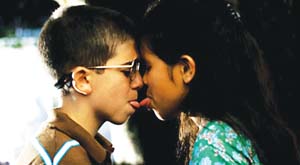 Maldeamores is a look at how love makes us crazy by entangling us in its deviously complicated web. This multifaceted comedy transports us into the backyards of Puerto Rico where reason is pushed aside by fervent desire and lust. As the stories unfold, we see how elusive love can be through the trials and tribulations of three distinct couples; a boy who discovers romance for the first time in the wake of his parents' failed marriage, a love triangle that comes full circle as an elderly woman finds herself caught between her two ex-husbands and a bus passenger who's lost touch with reality and acts on impulse in lieu of accepting rejection from the woman he loves. A melancholic comedy, a love story about the ironies and mystery of love. Academy Award-winning actor Benicio del Toro produced this film, which was nominated by Puerto Rico for the 80th Oscars.
Maldeamores es una mirada a como el amor nos vuelve locos enredandonos tortuosamente en su complicada red. Esta comedia multifacetica nos transporta a la parte de atras de Puerto Rico donde el deseo ferviente y la pasion vence a la razon A medida que la historia se desenvuelve vemos como es el amor de elusivo a traves de las tribulaciones de tres parejas , un joven que descubre romance por la primera vez al tiempo que el matrimonio de sus padres se acaba, un "menage a trois" entre una anciana en el medio de sus dos ex-maridos y un pasajero de autobus quien pierde contacto con la realidad y actua impulsivamente sin aceptar el rechazo de la mujer que ama. Una comedia melancolica, una historia romantica acerca de las ironias y misterios del amor.
El premiado Benicio del Toro, produjo este film que fue nominado por Puerto Rico a los Oscars.