Title: Matar a todos / Kill Them All
Location: LaPenaCulturalCenter
Tickets: Click here
Description: dir. Esteban Schroeder, 2007, Argentina / Chile / Germany / Uruguay, 97 min.
Start Time: 20:30
Date: 2008-11-20
End Time: 23:45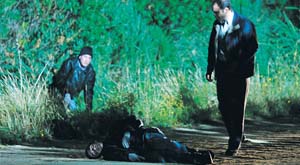 Assistant to a prominent judge and "black sheep" of a military family, Julia Gudari (Roxana Blanco) is a lawyer who uncovers evidence that Uruguayan authorities are sheltering the Chilean chemist Eugenio Barrios, suspected of developing poisonous gas weapons for Pinochet. Despite pressure from superiors and her own family, Julia delves into the dark secrets of her quarry and her own past in a search for the truth. A tense thriller, Matar a todos is also a sharp look at the lasting legacy of human rights abuses under military regimes and the complicity of current governments in preventing these crimes from coming to light. The film received awards for Best Script at the XIV Mostra de Cine Latinoamericano de Lleida and at Havana's Festival Internacional de Nuevo Cine Latinoamericano (where Roxana Blanco was also recognized as Best Actress), as well as Audience Award at the Festival Internacional de Cine de Cartagena, the Festival de Biarritz and Montreal's Festivalissimo. 
Julia Gudari es una abogada, asistente de un prominente juez y "la oveja negra"de una familia militar que descubre evidencia que las autoridades uruguayas estan  protegiendo al quimico Eugenio Barrios sospechoso de desarrollar gas venenoso como armas para Pinochet. A pesar de las presiones de sus superiores y de su propia familia. Julia excava dentro de oscuros secretos familiares y su propio pasado en busqueda de la verdad. Un thriller de gran intensidad y una mirada aguda sobre el perdurante legado de los abusos a los derechos humanos bajo los regimenes militares y la complicidad de los gobiernos actuales en prevenir estos crimenes de salir a la luz. El film recibio galardones como "Mejor Guion" en la Mostra de Cine Latinoamericano de Lleida y en el festival Internacional de Habana, Nuevo Cine Latinoamericano asi como el Premio del Publico en el Festival Internacional de Cartagena, el Festigal de Biarritz y el Festivalissimo de Montreal.