Title: Los Soneros del Tesechoacan / The Sound of the River
Location: Mission Cultural Center for Latino Arts
Tickets: Click here
Description: dir. Inti Cordera, 2007, Mexico, 73 min.
Start Time: 18:00
Date: 2008-11-11
End Time: 19:15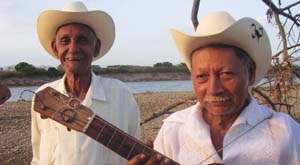 This visually and musically uplifting film explores the tradition of Son Jarocho in the state of Veracruz, Mexico, where a tradition called son music is being sustained along the Tesechoacan River. Here, both the old and new generations battle against modernism in an effort to maintain their music, celebrations, and way of life. They want to preserve and pass on the musical wisdom of the aging soneros who for decades have inhabited the banks of the Tesechoacan river. Director Inti Cordera has given us a moving documentary that keeps this memory alive and brings the testimony of Higinio "El Negro" Tadeo, who works to gather together a group of "son" players from his generation to stage a big fandango, a lost tradition in his hometown. Through the voices and the instruments of these men and women, this story is told and spreads out beyond a river and a single musical genre. 
Este film de gran riqueza visual y musicalmente fascinante explora la tradicion del Son Jorocho en el estado de Veracruz, Mexico, una tradicion musical llamada son que es mantenida a lo largo del rio Tesechoacan. Aqui, las viejas y las jovenes generaciones luchan contra el modernismo en su esfuerzo por mantener su musica, sus celebraciones y su modo de vida. Quieren preservar la sabiduria musical de los ancianos "soneros" quienes por decadas han habitado las margenes del rio. El cineasta Inti Cordera nos ofrece un emocionante documental que conserva la memoria viva y brinda el testimonio de Higinio "El Negro" Tadeo quien trata de reunir a un grupo de soneros de su epoca para organizar un gran fandango; una tradicion ya perdida en su pueblo. A traves de las voces e instrumentos de estos hombres y mujeres, se relata esta historia que va mas alla de un rio y de un genero musical.