Opening Night Party

>>> Click here to download the 2008 ILFF in Marin County <<<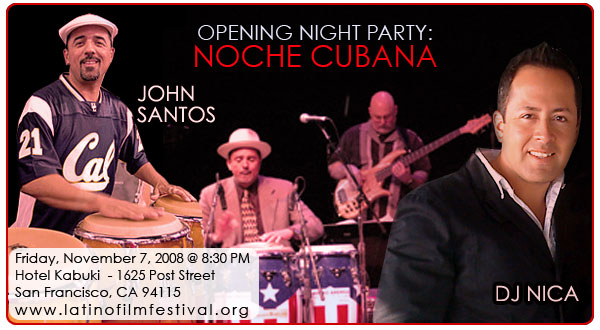 Noche Cubana
Buy Tickets here
Friday, November 7,2008 @ 8:30 P.M
Hotel Kabuki – 1625 Post Street
San Francisco, CA 94115
Presented by Macy's.
Sponsored by Wells Fargo & Joie de Vivre.
The 12th International Latino Film Festival presents Opening Night Party – Noche Cubana!
Sponsored by Macy's, Wells Fargo and Joie de Vivre Hospitality
Following the screening of Cachao: Uno Mas
Follow the Afro-Cuban rhythm from your seat at the Castro opening back down the red carpet to our opening night party at the Hotel Kabuki to complete your "Noche Cubana."
Experience the jiving beats of John Santos and DJ Nica and indulge in wine, cocktails and cuisine from different corners of the Latin world. Salsa Dance performance by Salsamania!